World Wide Miniatures Day 2019
Below you will find all the information related to World Wide Miniatures Day or WWMD for short..
What: World Wide Miniatures Day 2019
When: July 13th (ish) – I say (ish) cuz it's flexible. If you can't do it this day, do the next day, or the day after or the day before or the week before. This event is designed to be fun and inclusive to everyone as much as possible.
Where: Your place, your friendly local game store, your paint club, or where-ever you like.
What: This is the fun part. WWMD is a celebration of this hobby we love while enjoying sharing our obsessions with others who can truly understand. Also to bring in new people to this wonderful and engrossing pastime.
How: We celebrate it by doing anything related to the hobby. Anything! Some activities include: Painting, cleaning, prepping, priming, purchasing, trading, reading about, watching videos, organizing, talking about, driving to and from your FLGS, teaching classes, researching, playing games with miniatures, planning miniature games, building a gaming table, paint rack, display case, basing miniatures, collecting basing materials, writing posts or articles, photographing miniatures, constructing sentences with the word miniature in them. Really ANYTHING that can be connected back to this hobby. Did I say anything?
Cost: Just your sanity. Your a miniature painter -- this is probably a freebee for you.
Motto: No rules. No Prizes. No regrets.
Why: Really? You have read this far and you are asking why? The simple answer is – because we can and we should. Why not?
Special Challenges
Marathon Challenge: Can you do something miniatures related for 24 hours taking breaks only to eat and go to the bathroom? This challenge is for you. It is based on the honor system but it would be really cool to post pictures of your work in progress.
Half Marathon Challenge: Same as the marathon only its 12 hours.
5K Challenge: 5 hours – you get the idea.
Charity Challenge: Its back by popular demand— well it was popular with me anyway — the Charity Challenge. All you have to do is donate any of your time/work/goodwill from this day to charity (you pick which one) and you complete the challenge. You define which charity you want to donate to and what that donation is. Remember it's the honor system and I'm not going to check up on you. Just member you have to live with yourself. You can build terrain and donate it to your war game club or paint miniatures, sell them on ebay and donate the proceeds to Habitat for Humanity. You could donate your time teaching beginners how to paint. Its all good!
Combine this challenge with any of the others and get a special reward.
Complete any of the above challenges and pm me your address and I will send you a ribbon. How cool is that? I'm hoping cool enough to solve the all world's problems… but I am helplessly optimistic.
Cool Stuff: We have shirts to give away this year. Winner will be drawn at random from those who participated this year. You get an extra entry if you do the Charity Challege so keep that in mind. A special shout out to Miniature Monthly for their help with this even. Also the hobby hangout for letting me post the even in their events. An also Amanda Cotten for creating the mascot and this years t-shirts.
Other Cool Stuff: This is the first year we have a T-Shirt designed by Amanda Cotten at The Moon on Their Wings. She also designed the the current mascot, Gobnard. She drew him and I named him. If you don't win one you can order one from her. They are all the rage.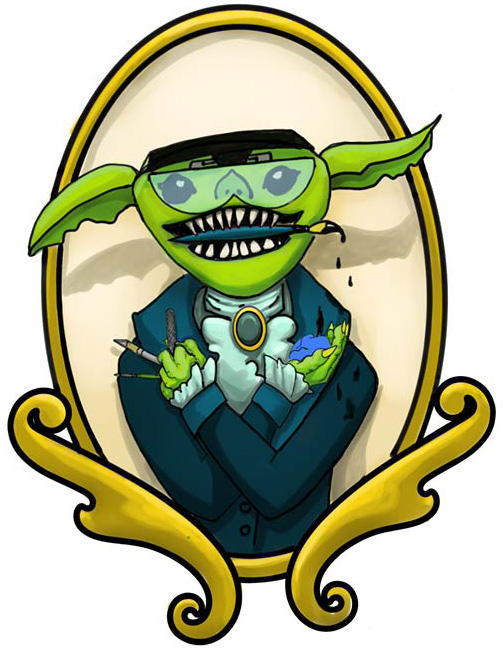 Gobnard the painting goblin